Week 1 - Evolution of premDAT
Posted: 9/21/2020, 12:40:20 PM
See what has changed on premDAT, one week after the beta started.
(French message below)
Dear all,
Thanks a lot for you participation! You're likely here because you've received an email: if you don't want to be bothered by email notifications anymore, don't hesitate to jump to your profile and set "Announcements" to "on premDAT only" or "disabled".
premDAT has been evolving a lot these last 10 days, thanks to your feedbacks. Here's a short recap of the most noticeable changes:
Display name
Some of the Discord users out there legitimately do not want to show their Discord identifier on premDAT, yet premDAT still needs to know that information in order to connect with Discord. To solve this issue, you now have the ability to decide of a Display Name, that will be used instead of the traditional username for others to see.
Moar fields!
Games and adventures have now more fields to display, and more options to choose from, such as stating whether they are commercial or homemade, or precise if a game is a LARP or a Roleplay Forum.
Improved banner
Character's banner are now processed in the backend of premDAT, allowing finer treatment of the images. After this promising upgrade, I'm planning to further extend the banner feature:
Customize (dark, light, color of the text, fonts);
Vertical "card" format;
Advanced privacy settings (choose who can download, more precisely than "nobody" or "everybody).
Let me know if you like it!

List views
While cards are pretty, they're also less than convenient to quickly compare entries in Characters, Games and Adventures sections. To make things easier, a new List view is available. You can access it by clicking the "list" icon at the top of a page's pagination. Lists show 15 entries, and a set of variables that were previously only visible by looking at each individual entries.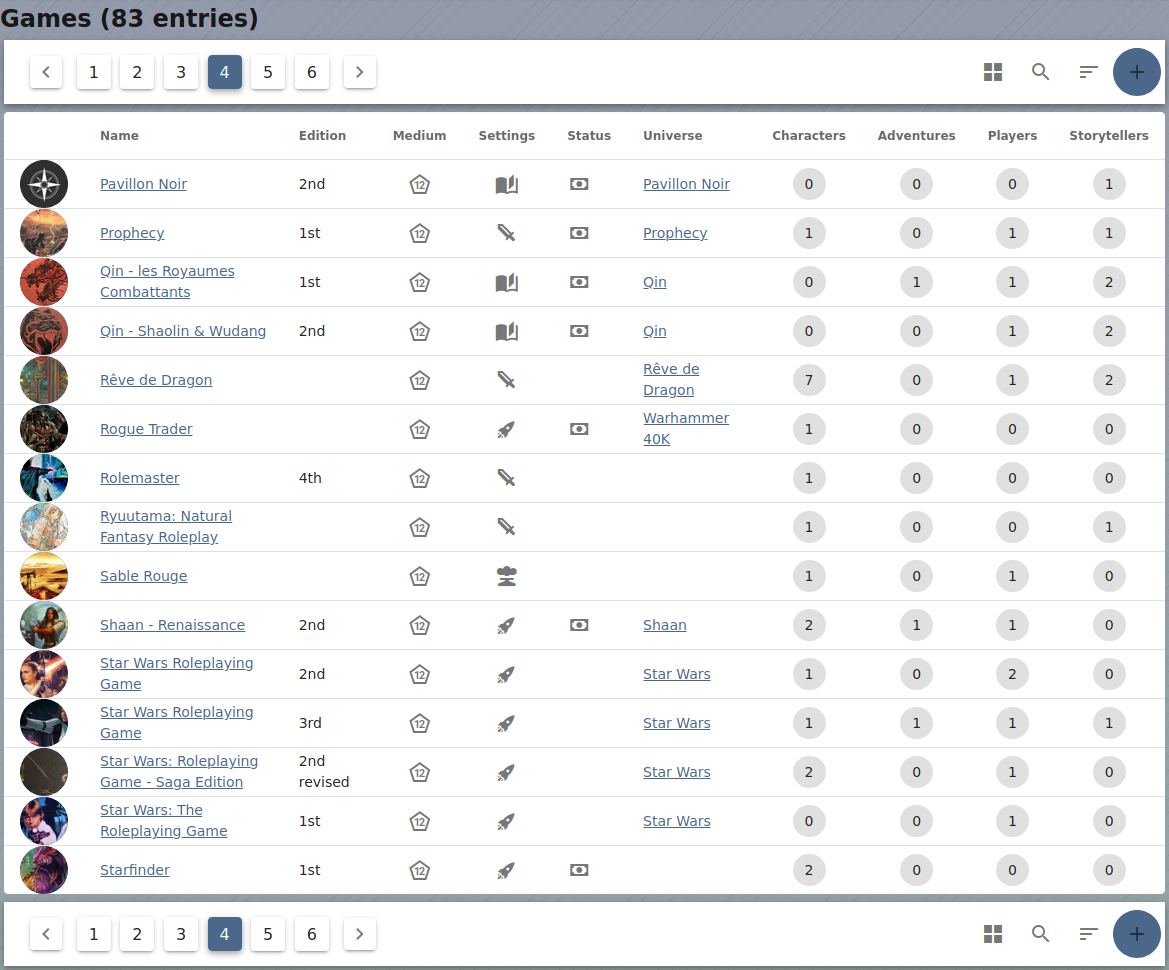 There have been more efforts in the background, focused on fixing bugs, making things work again and so on. This week is very likely to be slow on my side, but next week should see a new batch of features, including the definitive data visualization and its annotation tool, small changes to similarity computation, and a few more surprises !
Thanks again for your presence here and stay tuned,
---
Bonjour à toutes et à tous,
Merci beaucoup pour votre participation ! Vous êtes probablement ici parce que vous avez reçu un courriel : si vous ne voulez plus être dérangé·e par les notifications par courriel, n'hésitez pas à aller sur votre profil et à régler "Announcements" sur "on premDAT only" ou "disabled".
premDAT a beaucoup évolué ces 10 derniers jours, grâce à vos commentaires. Voici un bref récapitulatif des changements les plus notables :
Nom d'affichage
Certains utilisateurs de Discord ne veulent pas, en toute légitimité, montrer leur identifiant Discord sur premDAT, mais premDAT a quand même besoin de connaître ces informations pour se connecter à Discord. Pour résoudre ce problème, vous avez maintenant la possibilité de choisir un nom d'affichage, qui sera utilisé à la place du nom d'utilisateur traditionnel pour que les autres puissent le voir.
Plus de champs !
Les jeux et les aventures ont maintenant plus de champs à afficher et plus d'options parmi lesquelles choisir, comme par exemple indiquer s'ils sont commerciaux ou faits maison, ou préciser si un jeu est un GN (LARP) ou un forum de jeu de rôle.
Bannière améliorée
Les bannières des personnages sont maintenant traitées dans le back-end de premDAT, ce qui permet un traitement plus fin des images. Après cette mise à jour prometteuse, je prévois d'étendre encore les fonctionnalités des bannières :
Personnalisation (foncé, clair, couleur du texte, polices de caractères) ;
Format "carte" vertical ;
Paramètres de confidentialité avancés (choisissez qui peut télécharger, plus précisément que "personne" ou "tout le monde").

Faites-moi savoir si vous aimez cette fonctionnalité !
Vue en liste
Si les cartes sont jolies, elles ne sont pas non plus très pratiques pour comparer rapidement les entrées dans les sections Personnages, Jeux et Aventures. Pour vous faciliter la tâche, une nouvelle vue en liste est disponible. Vous pouvez y accéder en cliquant sur l'icône "liste" en haut de la pagination d'une page. Les listes présentent 15 entrées et un ensemble de variables qui n'étaient auparavant visibles qu'en examinant chaque entrée individuelle.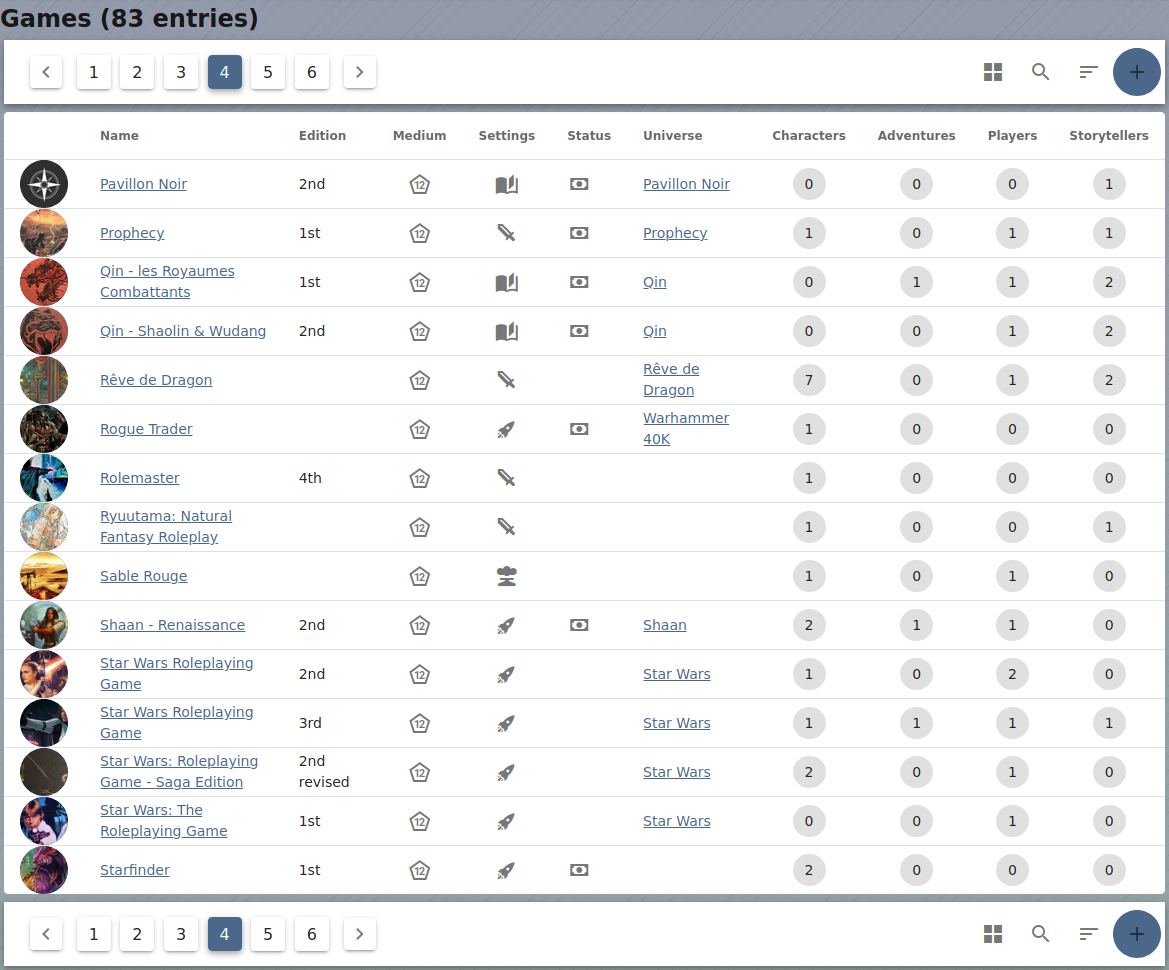 Il y a eu davantage d'efforts en arrière-plan, axés sur la correction des bogues, la remise en marche de certaines fonctionnalités, etc. Cette semaine sera très probablement peu productive de mon côté, mais la semaine prochaine devrait apporter un nouveau lot de fonctionnalités, y compris la visualisation définitive des données et son outil d'annotation, ainsi que de petites modifications du calcul de la similarité, et quelques autres surprises !
Merci encore pour votre présence ici !
- Pierre